Ljubljana is the capitol of the Republic of Slovenia. It is a pleasant town with a population of about 300 thousand, located on the banks of the Ljubljanica river. Tourists seem to like it more and more. Tourist information can be found on the following website https://www.visitljubljana.com/en/visitors/.
Ljubljana is served by Jože Pučnik airport (known as Ljubljana airport, airport code LJU) with regular flights to major European hubs. To get into the city there are busses waiting in front of the terminal (4 EUR, 45 minutes one way, ticket is sold by the driver, drops you off at the main bus station), taxis (30 to 45 EUR, 30 minutes one way), or shuttles (10 to 20 EUR one way, drops you off anywhere, booking required). If you have problem finding suitable transport, contact local organizers.
-> Bus search engine can be accessed here. The cheapest option. Please adjust the date for an up-to-date timetable of departures and arrivals.
-> Markun airport door-to-door shuttle. 10 € per person, 18 € for a round trip service.

-> GoOpti airport door-to-door shuttle. Could be very expensive if not booked well in advance.
-> Multiple TAXI services (in no particular order): Taxi legende, bookTAXI Slovenia, Taxi Društvo letališče Ljubljana, Airport-Taxi and many more. Prices are competitive.
Other two nearest airports are Trieste (TRS, Italy) and Zagreb (ZAG, Croatia), both around an hour away, that have more flights than Ljubljana airport. If you are willing to spend more time on a shuttle bus, flying to Venice (VCE, Italy), Munich (MUC, Germany), Graz (GRZ, Austria), Milan (MXP, Italy), and Vienna (VIE, Austria) is also an option. All airports are connected to Ljubljana by a shuttle bus.
The most widespread shuttle bus company is GoOpti (https://www.goopti.com/en/). Their service is reliable and you can choose to be dropped off at your hotel for a small charge (or for free if it is not too much of a detour). Book soon as they are running a complicated variable price scheme. Drivers take good care to collect all passengers even if your flight is late or you get lost at the airport.
You can also use international bus connections such as FlixBus (https://global.flixbus.com/).
Using a train to get to Ljubljana is discouraged, as the services are unreliable, slow and relatively expensive. Nevertheless, information about train connections and timetables can be found on http://www.slo-zeleznice.si/en/. Ljubljana is not directly connected to the airport with a train connection.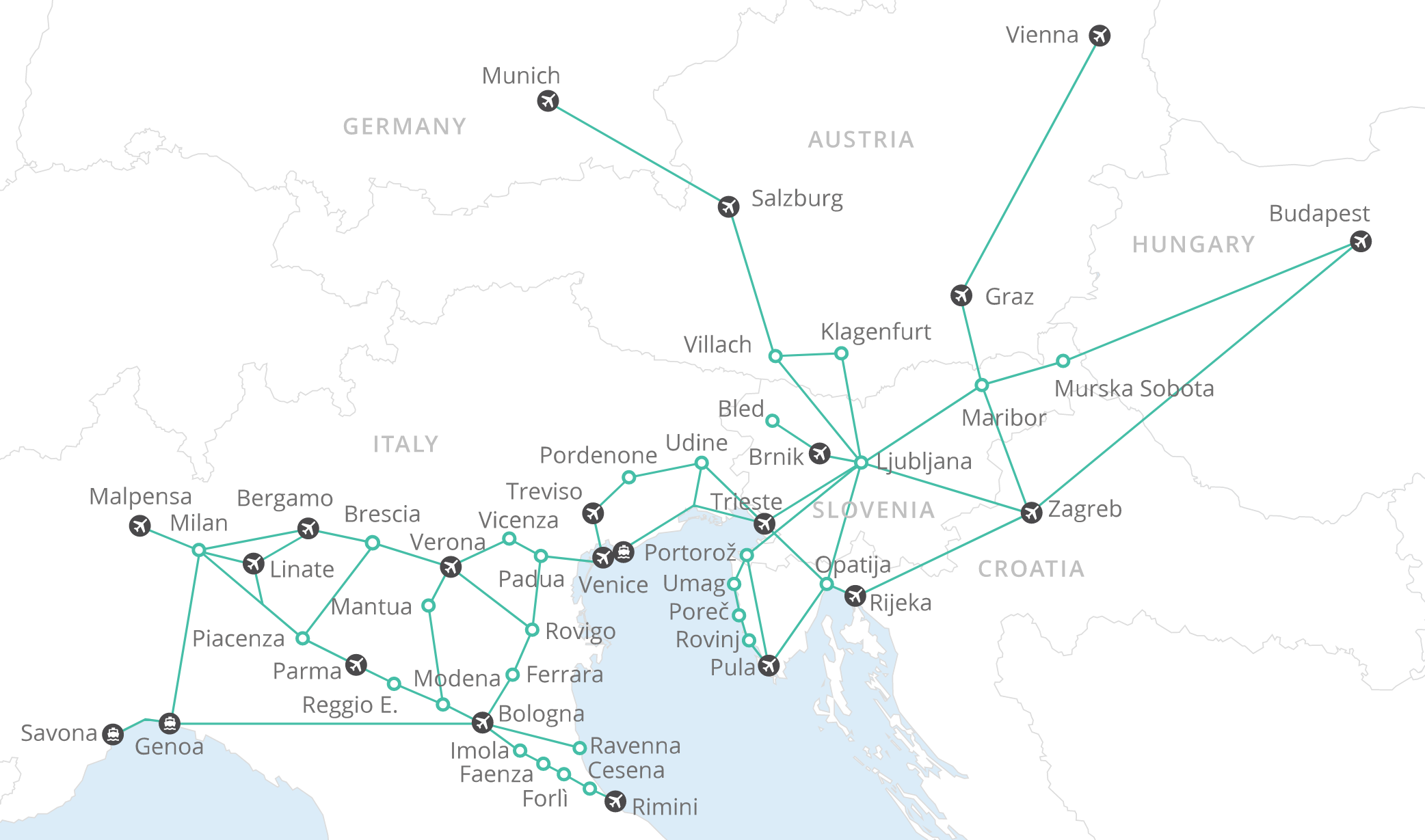 Getting around Ljubljana, public transport
Ljubljana is small so you can walk everywhere. A walk from the main bus terminal to the centre, where most hotels are, is 10 minutes and then further 10 minutes from the hotels to the Faculty of Mathematic and Physics. You just walked over half of the town! There are also city busses for which you will have to buy a card (in any trafic store) and top it up with some credit (when you buy it, in any trafic store or at the machines). Every time you tap onto the bus 1.20 EUR will be deducted from your credit. The ticket is valid for 90 min and can be used for unlimited number of transfers.
Map of public bus lines in the city centre:
Weather in June is warm with average day temperatures around 25 °C, reaching 33 °C on hot days. Mornings are sunny with possible showers in the afternoon. If you plan to visit the mountains, keep in mind that the weather can change quickly and freezing temperatures and snow are possible.